---
SKU: XS-ZTABLERB
---
Z-Style Portable Flight Case DJ Table W/Handles & Wheels - Black on Red
Product Images
Our Products And You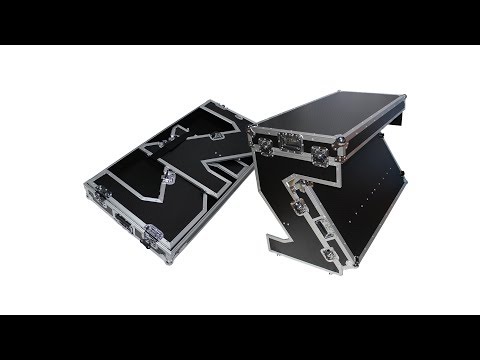 ---
request info
---
ProX XS-ZTABLERB Z-Style Portable Flight Case DJ Table W/Handles & Wheels - Black on Red
Description
The ProX XS-ZTABLERB Z style DJ table is easy to set up, quick to collapse, and amazingly portable! It's constructed with our signature series certified 3/8 inch Honeycomb Digital design plywood, which provides a unique look. The table measures 48" x 25" featuring plenty of room for your latest controller and equipment and is the perfect height of 3ft keeping all of your gear within immediate reach. It can handle up to 200 lbs evenly distributed. The low profile Penn Elcom casters, which are built to last, makes transporting your Z table effortless. It's manufactured from all of the best industrial strength quality materials you expect from ProX Cases.
When it's time to hit the road, the Z style legs go inside the case giving you manageable dimensions of 48 x 25 x 10 inches.
This item is part of our Black on Red Series, which features an all-black trim on a red exterior for a sleek, professional look.
This ProX table is manufactured with the Honeycomb Laminated Surface Design. Made with the super-sleek look of Honeycomb hexagon grids on all shell surfaces, which gives the cases an almost alien look! Also as opposed to regular laminated plywood cases from other manufacturers, the ProX Honeycomb design helps prevent minor to mild scratches. The Honeycomb Digital Line design was inspired by the design of New York City Street Manhole covers which are made to handle rough and tough everyday punishment.
* ProX Goes Green: The durable hard rubber foams used in our cases contain 70% recycled content. Of that 70%, 80% of it comes from recycled plastic bottles and the remaining 20% from recycled post-industrial materials. At ProX we strive to make the world a better place!
Features
Black on Red Digital Honeycomb Exterior Design Easy locking fit and tongue
Spring action recessed handles
Heavy duty and powerful steel ball corners
Dual anchor rivets
Signature Series Laminated 3/8" plywood
36" high from floor
Table top is 48" wide X 25" Deep
Utility shelf for storage
Adjustable Feet
2x Low Profile Penn-Elcom Durable Tough Rubber Wheels 
ProX Limited Lifetime Warranty
Dimensions
48.00"L x 25.00"W x 10.00"H
Weight: 70.00 lbs
Shipping Dimensions
50.00"L x 27.00"D x 12.00"H
Shipping Weight: 77.00 lbs
UPC
019372406129
---
Our Products and You
---
Commonly Asked Questions
+
Whats the warranty on ProX Flight Cases?
+
Does the equipment shown in the photo come with the case?
submit a question
---
Customer Testimonials
It's great that this case has wheels, makes it WAYYYY easier to carry my SX2. Padding holds the controller securely, it is a good height and made very well. The top shelf stuck for a while and was a bit tough to move back and forth, but some WD-40 solved that in about 5 seconds. Great case for the money.
submit a testimonial
---
Related Products